Key Projects - 43.6MVA UPS Installed at a Cloud Data Center in Beijing
Time : 2019-08-20
Sicon installed more than 100 Modular UPS units in the range of 400 to 600kVA to ensure reliable, efficient and safe operation of the Cloud Dater Center in Beijing.
Location: Beijing, China
Segment: Cloud Data Center; 45,000 racks
Background:

The complete Cloud Data Center is composed out of 18 building. The current build of phase one consist 2 of the 18 buildings.

Cloud Data Center Overview

Covers 83 acres, delivered construction area > 430,000 ㎡

Planned rack capacity: 45,000 unites, T4 T3 standard

Available Racks in 2017 > 20,000 unites

PUE <1.5, tested by CATR





Challenge:

This is a Super Large Cloud Data Center, providing dedicated, mission-critical facilities. In order to confidently start this business, the owner needed a trusted partner, who have strong portfolio and capabilities to provide the right partnership for success.

Sicon Technical Team brought the resources and talent to plan, design, build, commission and maintain this state of the art data center. The client experienced a successful partnership based on the utilization of Sicon's Modular UPS and other Power facilities that have proven time over time to be the most reliable and efficient Power option possible.

Solutions:

◆The Cloud Data Center is now Sicon's single Largest Site with installed UPS capacity including Modular UPS totally 43.6MW.

◆Building #3, 2x 1500kVA UPS (3unites 500kVA UPS parallel), 15x 1600kVA UPS (4unites 400kVA parallel), 2x 500kVA UPS, 1 x 160kVA UPS.

◆Building #4, 2x 2400kVA UPS (4unites 600kVA UPS parallel), 6x 2000kVA UPS (4unites 500kVA parallel), 1x 1500kVA UPS (3unites 500kVA parallel), 1 x 300kVA modular UPS.

◆The systems were supplied against a demanding schedule, with systems being delivered and installed every two weeks for almost three months.

◆UPS Systems were provided in various configurations include 2(N+1), 2(N), and N+X are supported using AGM batteries.

◆Most of the UPS systems were installed in A+B dual cord configuration comprising the A & B supplies, supporting the dedicated IT & Server load.

◆A few UPS units were installed in standalone configuration with the 160kVA and 300kVA units supporting mechanical load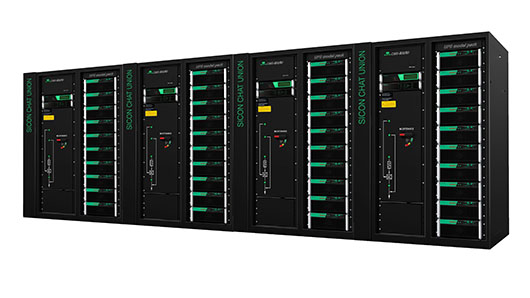 Results:
◆Modular UPS A+B dual cord configuration (2N configuration) meets Tier IV classification for Data Center Power Designs
◆Total Cost of Ownership (TCO): CMS Modular UPS up to 96% efficiency, pay as grow, cost effective
◆Success operation in many sites of 10MW above Data Centers proved the Reliability of Sicon modular UPS; Winning the first phase 40MW of this Cloud Data Center, thanks for Client's Trust on Sicon Team and Sicon Brand Value in UPS sector.
Site Pictures:
Photo Gallery of the Cloud Data Center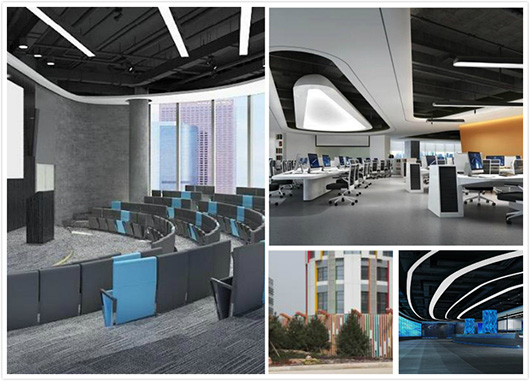 ---
Related Products
25-200kVA Rack independent Modular UPS
350-800KVA Modular UPS
---
Related Solutions
Industrial Modular UPS N+X Solution

---
Sicon Enterprise Video & Sicon Online Show Room
---
Contact Sicon Team
Address: Bldg.14&15, No.319, Xiangjiang Street,Hi-Tech Zone, Shijiazhuang,Hebei, China (050035)