Modular UPS Market Research Report- Global Forecast 2023
2019-06-18 16:14:00
admin
Major giants are investing into modular UPS market due to increasing demand from various industries like healthcare, education, corporate, government among others. Increasing demand for additional power supply and data center applications is one major factor fueling the growth of modular UPS market. Many companies have launched modular UPS which will be suitable for small and medium sized data centers. These UPS models are easy to deploy and can be added to the system as the power requirements of the system increases. This helps in avoiding the burden of over specification during the initial design configuration. It also ensures that data centers will operate with optimum efficiency and reliability.
North America region holds the largest market share of global modular UPS market by Europe and Asia Pacific region. The growth is North America region is mainly dominated by U.S. and Canada and is attributed to the increasing demand for data center applications and growing technological advancements in the region. The region also has a well-established infrastructure which allows implementation of advanced technologies. Need for additional and uninterrupted power supply is major factor driving the growth of modular UPS market.
UPS(uninterruptible power supply) market has been segmented on the basis of component and vertical. The component segment is bifurcated into solution and services. Out of which, the services segment is expected to grow at the highest CAGR during the forecast period. The services sub segment is further bifurcated into integration services and professional services. Integration services is expected to hold the largest market share of services segment owing to the service requirements.
Unlike traditional UPS systems, modular UPS systems are highly scalable, efficient and do not face the problem of system failure. This ultimately helps in better productivity and provides reliability with efficient performance results.
The global modular UPS market is expected to grow at approx. USD 4 Billion by 2023, at 14% of CAGR between 2017 and 2023.
Modular UPS Market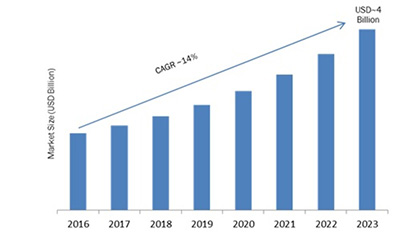 Segments:
Modular UPS market can be segmented on the basis of following:
By Component
Small Power:6KVA power module,12/24/36KVA frame
Medium Power:10/25KVA power module,50/100KVA/150/250KVA frame
Large Power: 50KVA power module, 350/500/800KVA frame
Services
★Integration Services ★Professional Services
By Vertical
★BFSI ★Healthcare ★Manufacturing ★IT & Telecommunication ★Media & Entertainment ★Defense ★Data Centers ★Others
Regional Analysis:
The regional analysis of modular ups market is being studied for regions such as Asia Pacific, North America, Europe and Rest of the World. It has been observed that Asia Pacific is estimated to account for the largest share of the market, by North America and Europe to grow at the fastest rate during the forecast period. The major growth in modular UPS market in Asia Pacific is attributed to technological advancements and developing economies in the countries like China, Japan and India in the region. Major factor driving the growth of modular UPS market in Asia Pacific region is the cost efficient solutions and increasing demand for additional power supply in the region.
Intended Audience
★Technology Investors
★Technology Providers
★Research/Consultancy Firms
★Infrastructure Providers
★Original equipment manufacturers (OEMs)
★OEM technology solution providers
---
Sicon Enterprise Video & Sicon Online Show Room
---
---
Sicon, industry leading electrical and power product designer and manufacturer, focus on R&D, production and marketing of modular UPS. Sicon provide complete solution for Modular UPS and Data center infrastructure,more please check at www.sicon-emi.com
Contact Sicon Team
Tel: 86-311-85903762
Address: Bldg.14&15, No.319, Xiangjiang Street,Hi-Tech Zone, Shijiazhuang,Hebei, China (050035)