Sicon EV charger installed in Shanghai Xuhui District People's Government
Time : 2019-08-20
Recently, Sicon EV charger with its high efficiency and flexible capacity expansion, joins hands with Shanghai Xuhui District People's Government.
Shanghai Xuhui District People's Government, is the executive organ of Xuhui district People's congress, and administrative authority in Xuhui,Shanghai, which is responsible for the People 's congress and Shanghai Municipal People's Government.
To suit users' requirements-high efficiency, fast maintenance and energy efficiency and environmental protection, Sicon provides EVTS DC charging system Shanghai Xuhui District People's Government.
Sicon DC charging system is the latest intelligent DC charging system. One station multiple outlets, which is composed of DC charge stack, concentral control unit and outlets.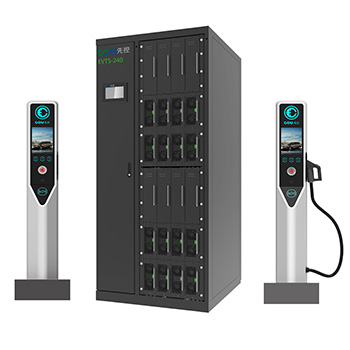 ★Modular design, the charger stack consists of power distribution unite,DC charging module, controlling unit and safety protection unit.
☆16 DC charging module in total, 2 outlets/ 4 outlets/8 outlets, suits for stereo garage that needs multiple outlets;
★Flexible power distribution fits all kinds of charging demands, reduce charging time and save investment;
☆Flexible power range: 8 outlets, 15KW-75KW; 4 outlets, 30KW-90KW; 2 outlets, 60KW-180KW;
★Perfect protection and alarm functions: overvoltage, undervoltage, overcurrent, over temperature, output short circuit, leakage protection,etc
☆Multiple communication port, via CAN/ RS485 garage controls system to work together, easy to operate and friendly user experience.
In recently years,Sicon specialized in the development and design of electric vehicle charging infrastructure, provided a full range of EV charging products and EV charging solutions, including DC fast charger(30KW-120KW) , 15KW DC charging module, DC charging system, AC charging station etc. to suit kinds of users' requirements. More EV charger and EV solutions info, please contact Sicon team(enquiry@scupower.com).
---
Sicon Products
>> EVDS DC Fast Charging Pile
>> DPM DC Charging Module ( DSP Technology, Efficiency 95%)
>> EVTS DC Charging Station (Multiple Outlets, Wide Range of AC Power Input)
---
Sicon Solution
>>
EV Charging Solution
---
Sicon Enterprise Video & Sicon Online Show Room
---
Contact Sicon Team
Tel: 86-311-85903762
Email
:
e
nquiry@scupower.com
Address: Bldg.14&15, No.319, Xiangjiang Street,Hi-Tech Zone, Shijiazhuang,Hebei, China (050035)