Sicon EV Charger Participated in EVSE Fair
Time : 2019-05-09
On April 19th, 2017, Sicon , as top EV Charger Supplier, debut impressively on the most authoritative, specialized and international power industry event in Midwest China—"the 15th Sichuan International Electric Vehicle Supply Equipments Fair" (EVSE), fully displaying its latest AC&DC charger equipment and complete charge solutions.
1 Booth design
With years of Exhibition experience, Sicon always bring breathtaking new looks. Sicon 2017 EVSE booth designed to reflect the sense of smart + connected, win-win cooperation, to create high-end, elegant overall booth image. Besides regular display area, Sicon also set up bar area, meeting area etc.. to facilitate participants rest and business negotiations.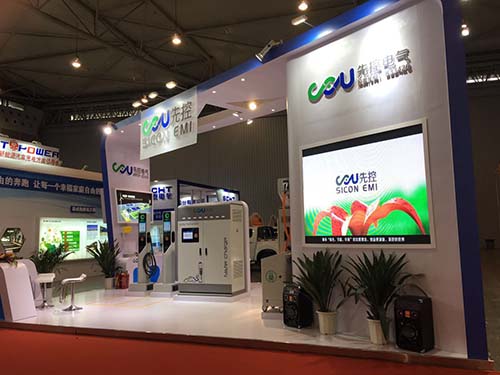 2. Exhibits lineup
In terms of product lineup, Sicon will never let customers down.
On charging equipment, Sicon brought EVDS Series Floor Stand Type/ wall-mounted/ Mobile DC Charging Station, EVTS Series Split Charging System, EVAS Series AC Charging Station, VRM Series On-board DC Charger, DPM Seires DC Charging Module etc..
On EV charging solution , Sicon especially introduced intelligent station solution based on EVTS Series Split Charging System, which supports for multi-channel dynamic adjustable DC output; smart module dispatch mode with advantages of charge time saved by 30%, module life extended by 50%, and system efficiency improved by 3%. Besides, it greatly saves initial investment, improves rate of returns.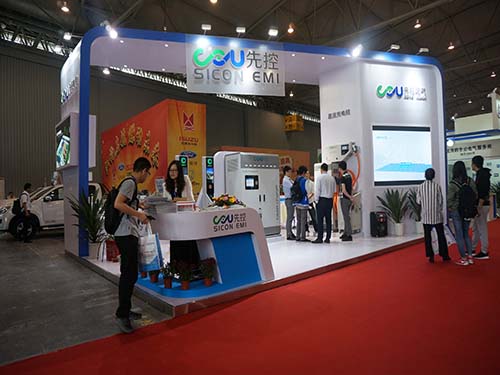 3. Live show
Sicon unique EV charger products and solutions attracted numerous people from all walks of life to visit, interview and intercommunication at Sicon booth. With great passion, Sicon experts detailed product performance and questions of all the customers on site, comprehensively displayed Sicon brand and technical advantages. Under hot atmosphere, Sicon gained high praise, build up long-term cooperative relations with multi-partners onsite.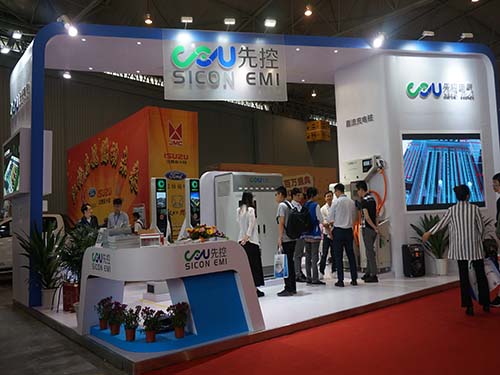 4. Media interview
In the afternoon, China CCTV Television and many other media made interviews on Sicon and Sicon business.
During ten years of trials and baptism, Sicon has always been focusing on the research, development, production and promotion of power electronics products, enhancing product function, expanding business area, and improving service standards. We will continue to uphold the spirit of concentration and dedication, supply clients with more reliable EV charger and charge solutions. Technical leading, future driven.