Which UPS technology should I choose?
2019-06-18 16:29:54
admin
With the fast development of telecom and network technology, UPS(uninterruptible power system) is widely used in various industries and advanced UPS is greatly required.In this blog we will show you three main types of UPS technology:
Offline/ Standby Technology
These uninterruptible power system(UPS) provides very basic protection against power problems.
★AC mains power passes straight through the UPS and only has RFI filtering and limited spike protection.
★The output waveform when operating on inverter power is invariably a square wave or stepped sine wave output.
★They often have limited communications capability
Line-Interactive Technology
★This UPS has superior spike protection.
★In the event of a power failure the inverter starts up and provides power as described in an standby system.
★The output waveform is normally a sine wave.
Online(Modular)/ Double Conversion Technology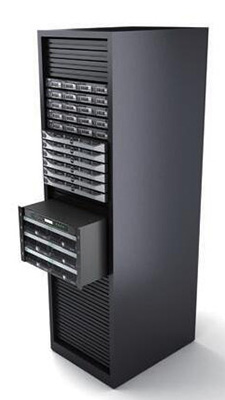 ★Online(Modular) double conversion UPS technology provides the highest levels of power protection from mains power problems and is often regarded as the most dependable type of technology.
★The battery is always in circuit and therefore when a mains failure occurs the battery carries on supplying power to the inverter. There is no-break in the supply to the load and no switching is involved.
★An automatic bypass circuit is incorporated into the UPS which provides AC mains to the load should the UPS be overloaded or in the unlikely event of an internal fault.
★Parallel and N+X redundancy system
★Rational redundant structure,pay as you grow
★RS232 communications ports for use with SNMP/ server shutdown software along with Emergency Power Off (EPO) capability are often standard on these systems.
★High reliability ,high availability and high investment efficiency, MTTR is 5 minutes.
Sicon Modular UPS
Original designer/Manufactuer
Full range modular UPS 6-3200kVA
No.1 market share in China
14-year-experience in Modular UPS field
---
Sicon Products
6-36KVA Modular UPS for small power
10KVA-100KVA Modular UPS ,hot swappable
150-250KVA Industrial Modular UPS, 150/250KVA Frame,25KVA power module
120KVA- 640KVA modular UPS, 40KVA power module
350KVA-800KVA modular UPS, N+X redunancy
---
Sicon Enterprise Video
&
Sicon Online Show Room
---
Contact Sicon Team
Tel: 86-311-85903762
Email

:
e
nquiry@scupower.com
Address: Bldg.14&15, No.319, Xiangjiang Street,Hi-Tech Zone, Shijiazhuang,Hebei, China (050035)