Sicon modular UPS applied in Medical Center
Time : 2019-08-20
Sicon joined hands with Blood Testing Center in Hefei city, Anhui Province to provide efficient and uninterruptible power supply.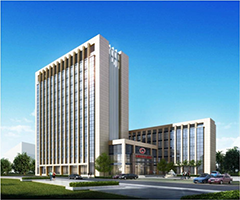 The blood testing center in Hefei City, is a comprehensive system which assembles centralized blood testing, blood collection, emergency blood donation and other functions. Sicon online UPS launching in this blood center,will play a significant role in the city's blood safety, ensures more than 10 million people blood security.
Sicon provided CMS modular UPS system for Hefei Blood Testing Center.Advanced modular design, N+X redundancy, hot swappable, can be easily online expanded according to the users ' requirements. 4 UPS system parallel is available. And meets N+X power solution/2N power solution /△2N power solution , features with high reliability and high cost-efficiency
Sicon always insist to the '' improving the quality as base, technological innovation as support and market demand as oriented'' to achieve the customer value maximization. Sicon UPS and professional overall power solutions, provides available and efficient power guarantee for government, finance, medical facilities, meets user's demands got highly praised .
---
Sicon Products
6-36KVA Modular UPS for small power
10KVA-100KVA hot swappable modular UPS
150-250KVA Industrial Modular UPS, 150/250KVA Frame,25KVA power module
120KVA- 640KVA modular UPS, 40KVA power module
350KVA-800KVA N+X redunancy modular UPS
---
Sicon Enterprise Video & Sicon Online Show Room
Sicon UPS at International Fair
Key Projects - 43.6MVA UPS Installed at a Cloud Data Center in Beijing
Telecom Case: Sicon 400kva Modular UPS at China Unicom Data Center
Astronomy Case-Sicon Modular UPS Applied to the World's Largest Single-aperture Telescope Base
---
Contact Sicon Team
Tel: 86-311-85903762
Email
:
e
nquiry@scupower.com
Address: Bldg.14&15, No.319, Xiangjiang Street,Hi-Tech Zone, Shijiazhuang,Hebei, China (050035)